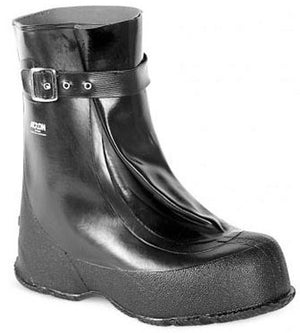 X-TRA Overshoes
Available in sizes 6 to17, the X-tra has an extra-large last to fit over work boots with metatarsal protection and very thick outsole. It is made of waterproof natural rubber and is knit lined. Its lower part is reinforced with thicker rubber and features a wide bellows tongue which imparts a wide opening and offers great waterproof qualities.
This product was developed to:
–Fit on metguard and thick outsole boots
*Order one size larger than Acton® work boots sizes.
Waterproof natural rubber
Knit lining
Adjustable buckle and wide bellows tongue
Lower part reinforced by thicker rubber
Large last for boots